At least 45 people were killed today and about 100 others were reported wounded when a burqa-clad woman attacked a crowded aid center in the Bajaur Agency's town on Khar, lobbing hand grenades before detonating a suicide belt.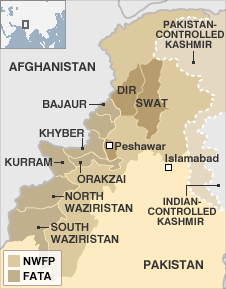 Meanwhile Pakistani troops were reporting some 40 militants killed in a series of helicopter raids in the neighboring Mohmand Agency. The attack came in the wake of some major gunbattles yesterday in Mohmand, which left dozens dead. All told at least 115 were killed in the two agencies, and well over 100 others wounded.
The woman in Bajaur never actually got inside the aid center, having been accosted by police at the entrance before attacking the large crowd of people waiting in line. The aid center belongs to the Salarzai Tribe, which has organized anti-Taliban operations in Bajaur recent.
Bajaur, the tiniest of Pakistan's Federally Administered Tribal Areas (FATA), has been the target of a number of offensives by the Pakistani military, and the Bajaur Agency Taliban faction, closely related to the Tehreek-e Taliban Pakistan (TTP)'s auxiliery group in the Swat Valley, has been reported destroyed by the military a number of times.
And violence there is, as ever, picking up again, just as the Mohmand Agency looks to be blowing up and Pakistan's government struggles to maintain some semblance of control along the fiercely independent tribal regions. The efforts come as the Obama Administration is said to be mulling a full invasion of FATA, despite Pakistani government opposition.