In the midst of officials praising the cooperation of the Karzai government in Afghanistan and, to a lesser extent, the Zardari government in Pakistan, top Obama aide John Brennan says the administration is increasingly frustrated with another of its "partners" in its global war, the Saleh government in Yemen.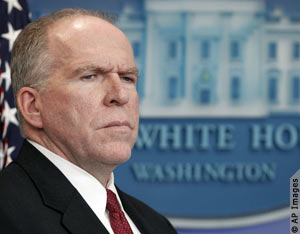 The CIA has recently been hyping the al-Qaeda in Arabian Peninsula (AQAP) group in Yemen as more dangerous than al-Qaeda's parent organization, and Brennan confirmed that position today, saying AQAP was more "operationally active" than the parent group in Pakistan. Pentagon officials have been pressing for major increases in military aid on this same basis for awhile now. So far, the Yemeni government has done little against AQAP, beyond taking the fall for US attacks that have killed Yemeni civilians.
Which is perhaps because AQAP rarely launches any major attacks inside Yemen, and instead seems to operate almost exclusively by targeting the West, as with last month's failed parcel bombing attempt. AQAP is so inactive in Yemen, in fact, that many Yemenis insist that they are a "myth" invented by the Saleh government to justify ties to the US.
Brennan sought to downplay the idea that it was a major split however, claiming that there was growing, but "healthy" tension with the Saleh government and that the US would continue to show patience toward Saleh.
But Saleh's trustworthiness as a partner is very much in doubt. Yemen's social structure is a complex thing indeed, and his control is based almost exclusively on his perception as a military strongman. His government surely welcomes US military aid, but seems far more eager to use this aid against his domestic opponents and various separatist movements than against al-Qaeda. As AQAP becomes a bigger concern for the US, this ambivalence toward moving against them must inevitably drive a greater wedge in the relationship.