Speaking today before the Bundestag, German Foreign Minister Guido Westerwelle announced that the government would begin withdrawing troops from Afghanistan at the end of 2011, with an eye toward ending Germany's involvement in the NATO occupation before 2014.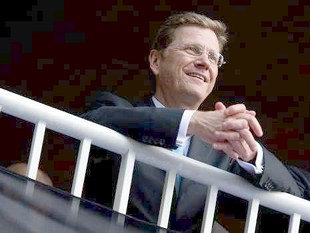 Westerwelle, like British Prime Minister David Cameron before him, cited the non-specific "improvements" in the war as enabling the end to their involvement in the hugely unpopular war.
The claims of progress are extremely recent, as just a few weeks ago officials were putting forth the disastrous worsening of the conflict as proof it needed to continue. At least in the US, however, the rhetoric change didn't lead to an actual policy change, as President Obama today insisted that the dubious fact that the war is suddenly going so well is proof it needs to continue as well.
Germany has the third largest force in Afghanistan, and as with Britain is looking at ending its role in the occupation as a way to trim its military budget in the face of growing budget problems. Germany also recently announced the end of military conscription on the grounds that the nation simply can't afford to pay all those conscripts.