Just one week after having declared victory in the yearlong battle to occupy the tiny Afghan farming village of Marjah, NATO has confirmed in a press release that they killed an innocent civilian and wounded two children on the outskirts of the village yesterday.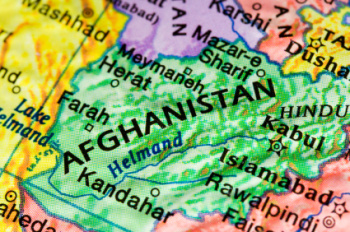 NATO insisted that troops in the region had come under fire, but there was no indication that the air strike actually managed to hit anybody except for the civilians. Gen. Tim Zadalis, in charge of air plans in the region, termed the killing an "unfortunate accident."
Officials made much of the invasion of Marjah in early February, though it was later revealed that what was being called a "city of 80,000 people" was actually just a few dozen farmers' homes clustered around a tiny village square. Predictions of a victory in a matter of hours as part of the COIN strategy proved equally false, as large numbers of US Marines are expected to remain in the village through at least next year.
At the same time officials had been touting a steady decline in civilians killed by air strikes, owing to Gen. Stanley McChrystal's blanket ban on using them near populated areas. Since McChrystal's ouster, that ban has been reversed, and once again the number of air strikes as well as the number of civilian victims is on the rise.