A WikiLeaks cable from the US Embassy in Asmara, Eritrea showed that the Obama Administration openly rejected multiple calls in early 2009 from Eritrean officials to improve ties, and plotted to instead improve their relationship with key military leaders interested in "change."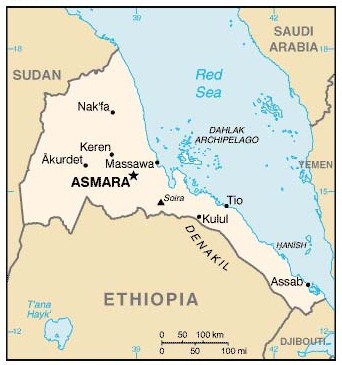 The cable repeatedly refers to top officials of Eritrea's ruling party calling for a "less antagonistic" relationship with the United States, and says the US ambassador clearly rejected the call all three times, threatening to treat al-Shabaab attacks on the US as attacks by the Eritrean government.
The Eritrean officials complained that they have had only "infrequent" contact with al-Shabaab, and insisted that they don't control what the Somali militant group does. The US responded by saying that Eritrea should look at "recent history" (presumably the 2001 invasion of Afghanistan) to judge the US reaction to any potential al-Shabaab attack.
The cable strengthens an April 2009 report that the United States was threatening to invade Eritrea and was looking at Afghanistan as a "model" for the occupation of the nation.
It seems the model is somewhat different, however, as the embassy officials openly lament the apparent loyalty shown by Eritrea's military and suggested that the US plans to strengthen ties with certain unnamed military leaders whenever the opportunity presents itself.