Speaking today in Santiago, Chile, Undersecretary of State William Burns condemned the moves by multiple South American nations to recognize Palestine as an independent nation, calling the moves "premature" and insisting such recognitions were unacceptable until Israel agreed to a two-state solution.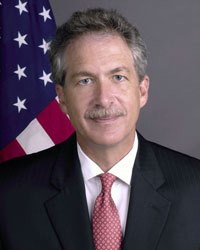 The comment was not well greeted by Argentine Foreign Minister Hector Timerman, who expressed annoyance that "once again the United States has publicly expressed an opinion about sovereign actions taken by the Argentine Republic."
Secretary of State Hillary Clinton insisted in separate comments today that she believes Palestinian statehood is "inevitable" but will come as a result of the Obama Administration's negotiations and that the continued occupation of the West Bank was a threat to the "Zionist vision."
But Palestinians are increasingly doubting the viability of those US talks, particularly as the Obama Administration has abandoned efforts to secure a settlement freeze, meaning the talks will likely remain stalled for the forseeable future. This has led the Palestinian Authority to mull attempts to get unilateral recognition of its existence, and threats from PA head Mahmoud Abbas that he may dissolve the authority if this is not successful.