At least 17 people were killed and scores of others were wounded today in the Pakistani town of Hangu, just south of Kohat District, when a suicide bomber rammed his vehicle into the front gates of a still under construction Shi'ite hospital,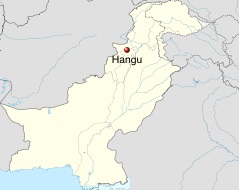 Hangu is strongly segregated along sectarian lines, and the Shi'ite minority has been repeatedly under attack in recent months. The attack appears to have been timed to coincide with the Commemoration of Muharram, an important Shi'ite religious date.
A local official said that the government has declared a state of emergency in Hangu, Kohat, and Peshawar because of the attack, and many of the wounded are said to be in critical condition, so the toll could rise.
So far no group has claimed credit for today's attack, but a number of the Taliban-styled factions have been keen to attack Shi'ite targets, so a claim of responsibility will likely be coming soon.