A WikiLeaks released cable from March 2009 related a conversation between Secretary of State Hillary Clinton and former Australian Prime Minister (currently Foreign Minister) Kevin Rudd on the issue of China. Incredibly, it included the Aussie PM urging the US to prepare for an aggressive war against the world's most populous nation.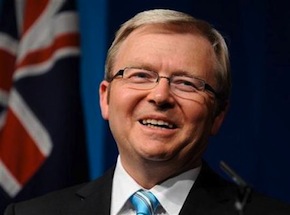 Rudd, who described himself as a "brutal realist on China," said the US ought to issue an ultimatum to China to implement a European-style "social safety net." Noting China has lent the US enormous amounts of money she asked "how do you deal toughly with your banker?"
Rudd's answer is somewhat shocking, as he said the US should get ready to attack China over the issues, saying Australia was focusing on upgrading its navy to combat China regionally. Rudd also provided the embassy with a copy of a 2008 speech arguing that a clash of civilizations between China and the West was inevitable.
Most of the revelations from WikiLeaks have been met with denials and feigned outrage from officials, but Minister Rudd proudly took credit for the comments in the cable, saying it was perfectly in keeping with the Australian national interest to press the US for military aggression against China. He added that he would continue to push this position as Australia's Foreign Minister.