During media talks, Pakistani Prime Minister Yousef Raza Gilani confirmed that Pakistan's civilian government has endorsed US demands to launch a military invasion of North Waziristan Agency.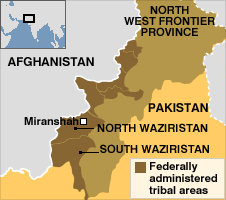 Gilani told reporters that the government has given the Pakistani military the official go ahead of launch such an attack, but the decision of whether to do so and when "lies with the army."
Exactly when such an offensive might be launched is unclear. Some officials have suggested they wish to wait until spring, but other reports suggested the operation would start in a matter of weeks.
With the repeated US demands to launch such an offensive it seems virtually inevitable. Yet previous US-mandated invasions have gone extremely poorly, creating humanitarian disasters while doing little to capture or kill militant leaders, who usually just relocate to another agency until the offensive ends.