The documents released by WikiLeaks detail a complex US relationship with Saudi Arabia, with officials simultaneously railing against private Saudi donors as the "chief financiers" of al-Qaeda and other terror groups while praising the Saudi government as a key partner in stopping such funding.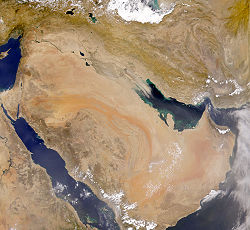 One of the documents, a classified file from February coming ahead of Hillary Clinton's visit to the Saudi kingdom, portrays US sway over the Saudi government as "durable" and says the US and Saudi agendas for the region are largely the same (right down to hostility toward Iran).
The portrayal of US faith in Saudi Arabia as one of its more cherished partners may well prove troubling, both as the Saudi King presses the US to attack Iran and as he uses his influential position to warn the US against other regional leaders he has lost faith in, notably Pakistani President Zardari.
The documents may also provide further insight into the atmosphere in which the Obama Administration agreed to sell the Saudi government $60 billion in weapons, the largest arms sale in the history of the world. This seems to be designed chiefly to bolster Saudi influence in the region, and secure them as an avatar of America's own agenda.