As the White House rails against WikiLeaks for releasing a cache of classified State Department documents, insisting that the "stealing" of the classified data is a crime, the United Nations Secretary-General Ban Ki-moon is said to be planning to remind the president to practice what he preaches.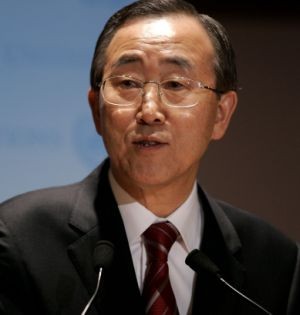 That is because one of the first leaks to come out of the data was a document signed by Secretary of State Hillary Clinton ordering State Department officials at a number of embassies to steal the credit card numbers and other personal data of members of the UN Security Council, including Ban.
According to one of Ban's spokesman, Farhan Haq, the Secretary-General intends to press the US on the plot "on various levels." Haq reminded people in his comments that the 1946 UN convention on privileges makes attempting to steal the data sought by Secretary Clinton is itself a serious crime under international law.
The release of WikiLeaks data includes less than one tenth of one percent of the overall data the organization claims to have, but the release has already uncovered at least this one serious crime. So far US officials are trying to deflect the charges by making a big deal of WikiLeaks, but it seems inevitable that Secretary Clinton and others will be brought to account for their crimes, particularly when those crimes are being committed against other top officials.