The Obama Administration announced today that it was adding the Falah-e Insaniyat Foundation (FeF) to the list of banned "designated foreign terrorist organizations." State Department official Daniel Benjamin said the move "shows that the United States will not tolerate any support to this organization."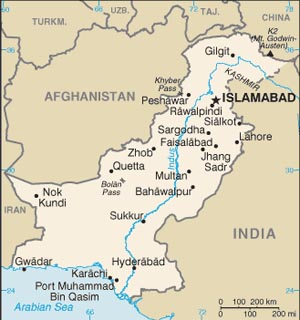 Despite the label, FeF is actually a charitable organization and one of the most active private charities in Pakistan's recent flooding disaster. According to the State Department, FeF is actually just an alias for Lashkar-e Taiba, a banned Kashmiri separatist group.
Which is an allegation that has been made a number of times, but the reality is that in Pakistan many of the Islamic charity groups like FeF and Jamaat-ud Dawa (JuD) are closely interlinked with banned separatist groups. At the same time the groups are legitimately engaged in charitable works, despite being banned by the Pakistani government.
FeF was among the most successful foreign fundraisers for the flood, and despite warnings about their ban and pledges to arrest their aid workers as terrorists a number of foreign donors said they were more effective and trustworthy than the government.
Though the ban is largely in keeping with supporting the Pakistani government's position on terrorist groups, it may also do serious harm to Pakistan's flood victims, many of whom are still struggling in the aftermath of the disaster.