Opposition to the TSA's heavy-handed (and also grabby-handed) screen procedures did not deter the agency from continuing its policies on one of the busiest traveling days of the year, despite admissions from officials that there is no actual threat to anybody.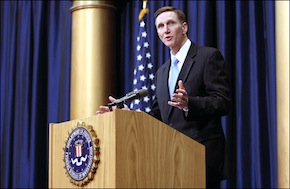 Homeland Security Secretary Janet Napolitano, whose department oversees the TSA, insisted that the screening procedure would not change, and said the only real problem was that "most Americans are not used to a real law enforcement pat-down like that." The inevitable response that most Americans are not criminals to be subjected to routine friskings seems to be lost on her, as with most officials.
Protesters were reported at a number of the major airports across the United States, but while these protesters clearly succeeded in getting their message out, they did not snarl holiday travel as some officials had feared, prompting many media outlets to spin it as a victory for the TSA.
Still, despite a number of travelers across the nation reporting that the TSA wasn't even using the objectionable "full body scanners" at their airports and hence there was no opportunity to object to their use, they were used in some places, including Los Angeles' LAX, where TSA officials reportedly conducted large numbers of "enhanced patdowns" on travelers who objected to the full body scans.
TSA Chief John Pistole, whose response to the protests was a combination of dismissiveness and overt threats, spent the day at Ronald Reagan National Airport, a visit that was supposed to improve the morale of increasingly reviled TSA employees whose jobs have increasingly become groping the public's sexual organs while scowling unpleasantly. Recent reports have suggested a number of the TSA agents are less than comfortable with the new policies.