Three car bombs were detonated today in the Shi'ite cities of Najaf and Karbala in southern Iraq, killing at least 28 people, including a number of pilgrims from neighboring Iran. Dozens of others were also wounded in the attacks.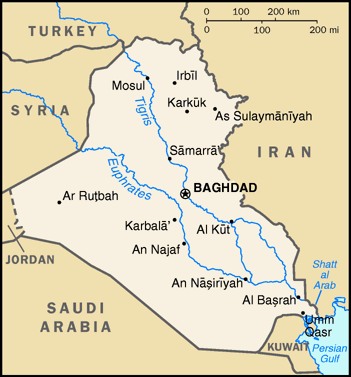 Najaf and Karbala each house enormously significant shrines for Shi'ites and have virtually a constant influx of pilgrims. Police say today's attackers were targeting buses carrying the Iranian pilgrims, though a large number of bystanders were also slain in the attacks.
Such Shi'ite religious sites have been popular targets for Sunni insurgents, and Iranian pilgrims have been considered especially valuable targets as many accuse the Iranian government of pulling the strings of the Shi'ite leaders of the Iraqi government.
Though sectarian clashes quieted down for a time in 2008 and 2009, they have been on the rise again since the March election, in which the Sunni-dominated Iraqiya bloc won the largest plurality, only to fail to form a government.