Israeli Foreign Minister Avigdor Lieberman's office has sparked another international incident today as British officials condemn what it being called an "ambush" of Foreign Secretary William Hague during his official state visit.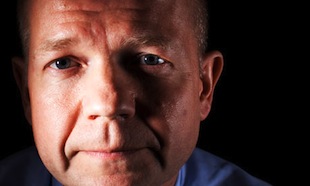 Just as Hague was arriving in Israel the Israeli Foreign Ministry announced that they were unilaterally canceling a number of high-level talks with Britain to punish the nation for continuing to claim the right to prosecute foreign war criminals. The move was particularly galling for Britain as Hague was said to be planning to announce that the law was being changed later this week as part of a campaign pledge to protect Israel.
Instead of the visit being a chance for the pro-Israel Tory to glad-handle the far-right government his visit is being treated as a chance to "shame" Britain, drawing inevitable comparisons to a January photo-op in which the foreign ministry publicly shamed the Turkish Ambassador.
Hague, for his part, seems to be hitting back, making his visit instead an opportunity to praise Palestinians jailed by Israel as "human rights defenders" as cheering on the protests against the Israeli military's controversial West Bank barrier.
Though Hague eventually met with Lieberman the meeting appeared too to be about Lieberman lecturing Hague, accusing his British counterpart of not having the commitment to tackle the "rising Islamic terror wave."