Speaking today in Pakistan's National Assembly, Prime Minister Yousef Raza Gilani insisted that there would be no mid-term elections permitted and that there was likewise no possibility of a military coup.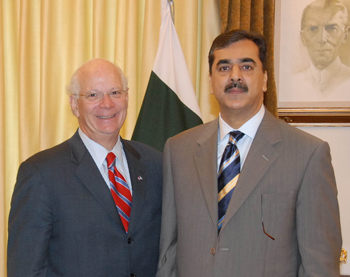 "The military is ours," insisted Gilani, adding "it will never impose martial law." Gilani did not include "again" in that second sentence, though his government already imposed martial law once during its brief term in office, cracking down on protests by the PML-N during the Long March.
Rather the comments seemed to be aimed at calls by a number of disillusioned opposition figures, particularly in the MQM, urging for the Pakistani military to seize power again as a way of tackling corruption.
Gilani's promise not to allow mid-term elections despite a dwindling majority drew loud cheers from his supports in the ruling Pakistani Peoples Party, and so far it seems to be holding enough seats, though just barely, to prevent such elections from taking place.