With a new round of calls to action following Friday's bomb plot scandal, Yemeni President Ali Abdullah Saleh warned today that his government is absolutely opposed to international intervention and that they will not permit foreign forces to operate on Yemeni soil.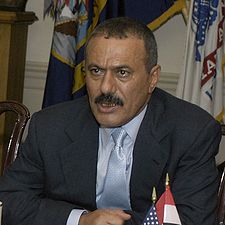 Yemen has faced a number of calls for US troops to participate in attacks against targets belonging to al-Qaeda in the Arabian Peninsula (AQAP), an auxiliary faction to the al-Qaeda organization which is centered in southern Yemen. Though the Saleh government has cheerfully parlayed these calls into massive increases in US military aid, they have downplayed the seriousness of the AQAP threat.
Indeed it was one week ago today that Foreign Minister al-Qirbi insisted that the entire AQAP faction in Yemen amounted to only about 400 active fighters. This goes along with Saleh's claims that his government can readily tackle AQAP by themselves.
Yet Yemen has been insisting this since late 2009, and despite a few offensives never seems to have much luck tackling the group. Instead the government has focused most of its energy on the more conventional secessionist movements on opposite sides of the country. Yemen is thus seeking a delicate balance between actually tackling the group and doing so little that the US just invades outright, and has tried to get local tribes to do the fighting for them.
Which would be a serious blow to the Saleh government's "strongman" image, which is about the only thing that keeps them in power. Even the possibility of CIA drone strikes has been hugely controversial and sparked warnings from Yemeni officials.