At least 26 people were killed today, the vast majority of them police, and 75 others were wounded when a suicide bomber hit a crowded cafe popular with Shi'ite Kurds in the Iraqi city of Balad Ruz in Diyala Province.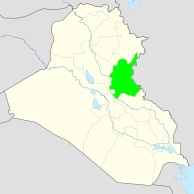 The attack appears to have been sectarian in nature, as most of the surrounding area is Sunni and the town is the only Shi'te dominated one in the vicinity. The cafe's popularity with local police may also have been a reason for its choice as a target.
Police announced a curfew has been imposed in the town as a result of the attack for an indeterminate amount of time. It is still unclear what organization is responsible for the attack.
But the attack is one of the largest in weeks, and has many concerned that another period of relative calm may be coming to an end, and that this may be the first in a new series of attacks. Strikes in Iraq are rarely solo acts, and are usually part of a string of strikes.