Following gunbattles between the African Union forces and Somali insurgents, the AU responded, as they so often have, with artillery attacks against the Bakara Market, the largest food market in Mogadishu.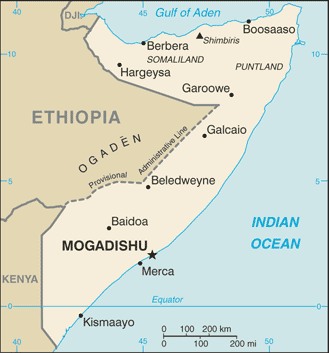 At least 11 people were killed in the shelling and 20 others were said to have been wounded. Neither African Union forces nor their allies in the self-proclaimed Somali government commented on the killings, which were reported by local media. One witness claimed the attack was the "worst to even happen in the market" according to Radio Garowe.
Which of course is untrue, because exactly a week ago AU troops had shelled the exact same market after another series of battles, killing 20 civilians and wounding 86 others.
Indeed, the African Union's internal reports have cautioned that the civilian killings by its troops are a major public relations problem, and the Bakara Market has been a popular target of shelling. The troops on the ground have claimed that since the market falls outside the territory controlled by the "government" it amounts to a legitimate military target, though such attacks appear to generally kill only civilians.