While Iranian President Mahmoud Ahmadinejad's speech was the primary source of scorn in most Western outlets, a number of Israeli MPs focused in on an earlier speech as the one to be really outraged about, that of US President Barack Obama.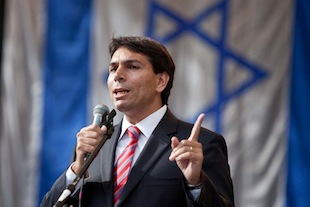 According to MP Danny Danon, of the ruling Likud Party, Obama's comments in favor of extending the settlement freeze in the occupied West Bank were "completely detached" and proved he was not a suitable partner for peace.
Comments by the Eretz Israel Front, an expansionist group within the ruling coalition, added that Obama's comments were "inappropriate" and that he was going against the "democratic decision of the citizens of Israel" to continue expanding the settlements in the occupied territories.
The partial settlement freeze is scheduled to end on Sunday, and Israeli officials have assured that they will not consider extending it, even if it sabotages the ongoing peace talks. Palestinian President Mahmoud Abbas has broached the subject of continuing the talks without a freeze, but this would be an extremely unpopular decision politically, and his ability to actually do this is very much in doubt.