In comments today Secretary of Defense Robert Gates insisted that he was "encouraged" about the war in Afghanistan, saying that "there is a general feeling that there has been some progress" since the massive December escalation.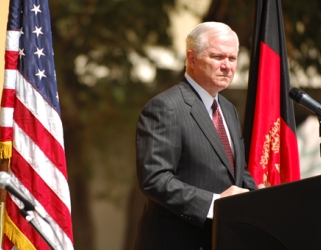 The comments are in keeping with those of Gen. David Petraeus and a number of other officials who claim that some sort of progress is being made despite the ever-rising death toll and seeming lack of any visible gains.
But they also seemed to raise the prospect that the December assessment of the Afghan War, long pointed to as a vital date to show progress, would not be met. Gates said he believed it might be demonstrated in "four to six months" that the progress was being made, which would push the date back into the first quarter of 2011.
A big challenge for demonstrating even a modicum of progress will come this weekend when Afghans vote in their parliamentary election. The vote faces two major threats, that the Taliban will make good on threats to attack polling locations and that the Karzai government's refusal to change the election system will lead to the same massive corruption that left last year's vote such an embarrassment.