Despite repeated US warnings not to mention Israel during next week's Vienna meetings of the International Atomic Energy Agency (IAEA), reports suggest that a number of Arab nations are planning to bring the topic up again and to urge Israel to join the Nuclear Non-Proliferation Treaty (NPT). The US is expected to vigorously oppose this effort.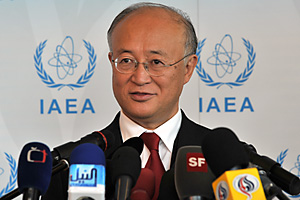 The US had previously condemned an effort to include Israel's nuclear arsenal, the only one in the Middle East, as a topic for discussion at any IAEA meeting, insisting it was "uncalled for" and was part of a plot to turn attention away from the US goal of centering nearly the entire meeting on Iran's civilian program.
Arab nations have been hoping to revive the "Nuclear-Free Middle East" proposal, an effort the US initially voted for but then condemned as a "mistake" because it would assume Israel's joining the NPT, as the last nation in the region which has yet to do so.
But Israel has condemned such calls as unfair and ruled out ever signing the NPT. President Obama has insisted that Israel has an inherent "right" to possess a nuclear arsenal.