Nabil Shaath, top negotiator for the Palestinian Authority, today ruled out complying with Israeli Prime Minister Benjamin Netanyahu's demand that the PA recognize Israel as an eternal "Jewish state."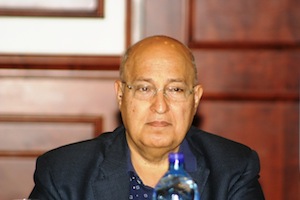 According to Shaath, such a declaration might do serious harm to Israel's Arab minority, as well as harm the claims of a right of return by the large number of Palestinian refugees.
Israel has long declared itself a Jewish State, but its ability to maintain this as well as a claim to being a democratic nation are often seen to be at odds, particularly with a growing non-Jewish minority population that is struggling to find a political voice. It has also brought various forms of Judaism into clash over how the state should be run.
The peace talks are aimed at the creation of a Palestinian state, and Prime Minister Netanyahu insists this state must accept a number of conditions, including giving Israel virtual control over its entire borders, agreeing to have no military of its own, formally rejecting the "right of return" and accepting Israel as an eternally Jewish state.