Some six months after the initial election, a number of possible candidates have been bandied about for the position of prime minister, with most of the focus on the three who have held the position before.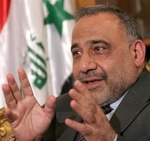 But according to one well placed member of the Iraqi National Alliance, the best chance left for a "compromise" candidate is none of the three, but rather Supreme Islamic Iraqi Council (SIIC) mainstay and outgoing Vice Presdient Adel Abdul-Mahdi.
Habib al-Tarfy, himself of the SIIC, says that Abdul-Mahdi appears to be the most high profile candidate left that is "accepted" by all the major blocs. The SIIC was the dominant faction in the Iraqi National Alliance before the election, but has since taken a back seat to the Sadr bloc, which gained more seats in the vote.
Abdul-Mahdi has previously been raised as a possible candidate, reportedly coming within a single vote of the position in 2006. Prior to his role as Vice President under the Jaafari and Maliki governments, he was the nation's Finance Minister under Ayad Allawi.