The Danish government has turned down a formal NATO request to send additional F-16 fighter jets to Afghanistan, with Foreign Minister Lene Espersen explaining that the Danish government believes it has done enough in the nation.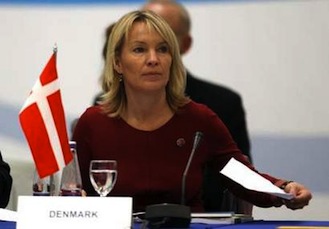 "We are one of the countries that contributes the most to Afghanistan," Espersen explained, adding that the Danish government "is under no obligation to do more" in the nation. Denmark currently has about 730 troops in Afghanistan which is about 0.6% of the overall occupation force.
And while this may not seem like much it is actually more than any other Scandanavian nation has in Afghanistan, and with much of its force centered in Helmand Province the Danish troops have among the worst death tolls as a percentage of any in Afghanistan.
As with many other European nations, the current financial crisis has them looking to reduce the cost of their militaries, and in Denmark's case this appears to preclude escalating their force in Afghanistan. Danish officials say they hope to have their troops out of Afghanistan by 2015.