According to reports from a mediator to the Spanish press and a Mali MP involved in the negotiations, the Spanish government secured the release of 2 hostages held by the al-Qaeda in the Islamic Maghreb (AQIM) group by paying the group off.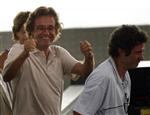 "$10 million, that's also my figure," the Mali MP confirmed, adding that the Spanish government paid the entire amount. The two hostages were seized in Mauritania in November.
The AQIM group is now a formal regional auxiliery of al-Qaeda, but had operated prior to that as the Salafist Group for Preaching and Combat (GSPC). The group operates largely around the Saharan Desert, and engages in kidnapping and killings across northern Africa.
The freeing of Spain's aid workers stands in stark contrast to a French engineer they had captured, who was executed after a failed attempt by the French military to rescue him in a raid on a desert compound.