The US has reiterated its commitment to back the self-proclaimed Somali government tonight following the al-Shabaab attack on a Mogadishu hotel which left at least 31 people, including 15 members of parliament killed.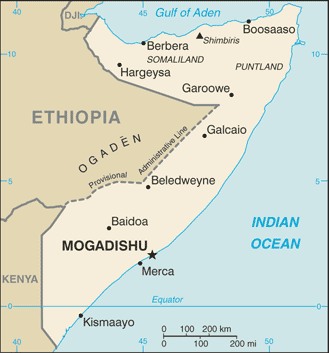 Al-Shabaab claimed credit almost immediately after the attack, and urged everyone who is able to participate in attacks against the African Union military forces and the "transitional" government.
The African Union is sending massive numbers of additional troops into Somalia, but so far the "government" controls little more than a few city blocks in Mogadishu.
Opposition to the AU forces has grown, however, as even internal AU reports acknowledge that their troops are indiscriminately targeting civilians during their operations. This opposition has helped to give al-Shabaab the air of legitimacy among AU opponents as they launch retaliatory attacks against the AU and, increasingly, against civilian targets linked with the AU.