Altaf Hussain, the founder and leader of the Muttahida Qaumi Movement (MQM), one of the largest political parties in Pakistan, today openly called for "patriotic" generals in Pakistan's military to seize power and declare martial law, insisting it was needed to tackle the corruption of the Zardari government.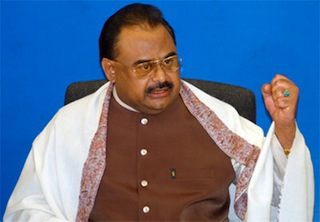 Generally considered Pakistan's most liberal major party, the MQM is politically dominant in the Sindh Province and in Karachi in particular. The group has been clashing openly with the ANP, allies of Pakistan's ruling Pakistani Peoples Party (PPP), in Karachi.
Hussain insisted that the members of the current civilian government amounted to "corrupt feudals" loyal primarily to the United States and insisted that the military should start a "French Revolution" style revolution against the ruling political bloc. He pledged the support of his party to any potential "martial law like steps" taken by the military.
With Pakistan already in turmoil over the floods and facing endless US-mandated wars, the Zardari government seems to be hanging on by a thread, and events allies are starting to concede that the military takeover of some major cities, at least temporarily, is a virtual inevitability.