Tensions are on the rise again and Pakistan's major city of Karachi has virtually shut down in the wake of yesterday's riots, which were precipitated by another major political assassination. Most of the city's shops were closed and public transportation was not running.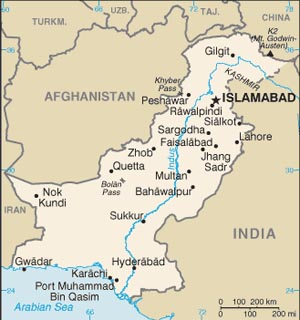 This riot comes just over a week after the last riot, which saw supporters of the ruling party burning down cable TV offices across Karachi for refusing demands to silence a news channel that broadcast an embarrassing story about President Zardari. That riot itself came just days after a previous riot over another political assassination.
With Pakistan's financial capital seemingly a perpetual basketcase, the Awami National Party (ANP), one of the dominance Pashtun factions in the city, has petitioned the Supreme Court to order an Army takeover of the city for the forseeable future to stop the targeted killings of Pashtun leaders.
The previous political assassination, which saw the start of the first riot in the month, was a member of the Muttahida Quami Movement (MQM). That group blamed Taliban-linked Pashtuns for the killing, and some implied that the ANP may have played a role.
This is not the first time this year that officials have raised the possibility of handing the city over to the military, but with this being the third major riot in Karachi in the first 19 days of August, it seems patience for the civilian government has run out. Still it is unclear that the military can do anything different, and it seems that the tensions are bound to continue into the forseeable future.