With most of the Iraq attention right now on the military's drawdown and the ways in which this could be spun as the "end of the war," the US State Department today confirmed plans to dramatically escalate its use of private security contractors to allow it to replace the military if and when it finally leaves.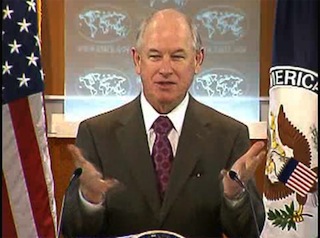 According to spokesman Philip Crowley, the State Department will be shooting for 7,000 contractors, roughly double what they have now, by October of next year. These contractors will not only engage in security operations for US diplomats, but will also, according to officials "search for roadside bombs" and engage in rescue missions.
The creation of this new State Department run private army is likely to be a matter of at least some controversy, particularly as they approach the military to hand over some heavy military gear for this new army to use.
But it underscores the reality that the US is determined to have a long term combat presence in Iraq, even as the end of combat is announced. And if that presence won't be with the regular US Army, a new army of mercenaries will be assembled to take their place.