Russia's Air Force Commander General Alexander Zelin today announced that the Russian military had deployed the S-300, the backbone of their air defense system, to the Black Sea Republic of Abkhazia.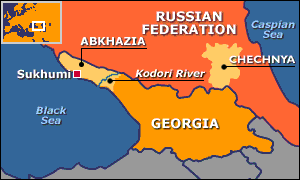 The move sparked outrage from neighboring Georgia, which has designs on reannexing Abkhazia after the 2008 declaration of independence. Russia has set up a military base in Abkhazia and has signed a pact agreeing to defend them from a future Georgian attack.
Yet US State Department spokesman Philip Crowley insists the deployment is nothing new, and says it was America's understanding that the S-300 had been in Abkhazia for the past two years, since the end of the brief Russo-Georgian War in August 2008.
Georgia's Deputy Prime Minister said the deployment posed a threat to the whole of Eastern Europe, including a number of NATO members. The claim is unlikely to be considered very credible, however, as the S-300 has only defensive uses.