The Obama Administration's military "trial" against Omar Khadr at Guantanamo Bay is expected to begin as soon as Tuesday, following a ruling form a military judge that the confessions made by Khadr are admissible.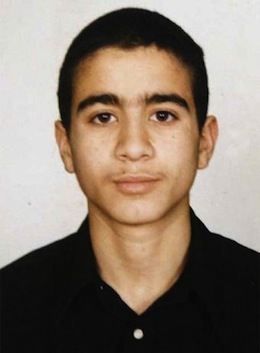 Khadr, a Canadian citizen, was 15 years old when he was arrested. Now 23, he is charged with having thrown a grenade at US troops during the Afghan War, and is being labeled an "unprivileged enemy belligerent" to explain the charges, as throwing a hand grenade during a war is not generally considered a war crime.
Defense lawyers had argued that Khadr's confessions should not be allowed because they came in the wake of threats of gang rape and repeated abuse during past interrogations. Prosecutors argued, and the judge agreed, that the threats were irrelevant to the confessions.
Khadr has previously indicated that he will boycott the "trial" because he does not want to help the US further its political goals. His eight year detention has been somewhat controversial, both because of his Canadian citizenship and his young age when captured.
In fact the military judge's ruling today was just the last in a long line of attempts to block the trial by the defense, which had petitioned the US Supreme Court to suspend the trial on Constitutional grounds. The court declined to do so.
Even coverage of the proceding at Guantanamo Bay have become something of a controversy, as the Pentagon continues to restrict what journalists allowed to see the trial will be permitted to cover, citing "operational security concerns."
Having virtually grown up in US custody, Khadr could face life in prison if convicted. The Canadian Supreme Court decided in January that it could not force the current Canadian government to seek his repatriation, but it remains possible that some future Canadian government may decide to seek the return of its citizen.