With this weekend the two year anniversary of the brief 2008 Russo-Georgian War, officials from both countries are out in force, making speeches and public appearances. Russian President Dmitry Medvedev made an appearance in the Republic of Abkhazia, one of the enclaves that declared independence from Georgia after the war.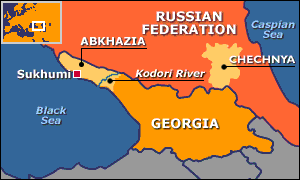 Georgian President Mikhail Saakashvili, for his part, vowed to continue his "struggle for liberation," which is the official euphemism for rolling back the secessions of South Ossetia and Abkhazia and reintegrating them into the Georgian nation-state.
Temur Iakobashvili, his government's Minister for Reintegration, touted the Georgian government's achievement of managing to avoid international recognition for either of the enclaves, and said his government's next goal was to get the rest of the world to declare them "occupied territories," on the grounds that Russian soldiers are backing up the republics' claims to independence and preventing Georgia's military from reannexing the regions.
Beyond Russia, the secession of the two enclaves is not generally recognized, but in the wake of the UN court's opinion on the legality of Kosovo's secession, South Ossetia and Abkhazia too may have gained an air of legitimacy, albeit one clouded by the diplomatic row between Russia and NATO. The United States has pledged to use its position in the United Nations to prevent the two enclaves from ever being recognized internationally.