Correction: A previous version of this article indicated that the GZM was not really a mosque. Though the bulk of the construction is for an Islamic Cultural Center, there is a mosque in the plans as well.
Amid outrage from angry protesters, the New York City Landmarks Commission declined to grant "landmark status" to a relatively anonymous commercial building in Lower Manhattan on the grounds that it is relatively anonymous and not of any historical significance at all.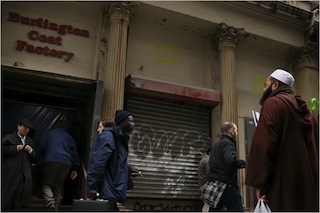 The reason this sparked so much fury is that the site is part of the planned location of a 13 story Islamic community center, which has been dubbed the "Ground Zero Mosque" by opponents isn't actually at ground zero and the mosque appears to be only a peripheral part of the overall plan.
A number of opponents have claimed that building a mosque at the site, or even a community center that is vaguely related to Muslims, somehow "glorifies" the terrorist attack a few blocks away in 2001. The furore has reached such a point that even the Anti-Defamation League, which is nominally a group fighting for religious freedom, came out against the construction.
The latest public opponent of the construction is Connecticut Senator Joe Lieberman, who urged the city to block the construction and "take a look at this." He is joined by former Alaska Governor Sarah Palin and Newt Gingrich. New York mayor Michael Bloomberg insists that freedom of religion still exists in the city, however, and supports the construction of the building.