As Pakistan's government struggles to cope with the massive destruction of the flooding in their northwest, many residents are finding that official aid is difficult to come by, and Islamist factions in the region are stepping in to fill the void.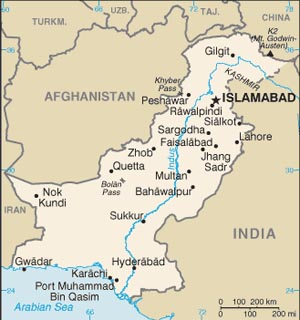 Reports suggest that the Jamaat-ud Dawa, a group linked by officials  to the Kashmiri separatist group Lashkar-e Taiba, is not only operating in the region, but is doing so openly, providing help for those in need. Other groups in the region, which includes the war torn Swat Valley, are also said to be providing aid to the estimated million homeless.
It is perhaps unsurprising that the Zardari government is dropping the ball in one of the worst natural disasters the nation has seen in decades, as they have done no better in the number of man-made disasters they have created over the past few years. In many cases where military offensives have created humanitarian crises in Pakistan's tribal areas, the government's camps are slow to set up and ill-prepared to cope with large numbers of refugees. In these cases too large numbers of Islamist-run camps emerged, providing better help for those the government couldn't.
While this isn't necessarily a problem in and of itself, it does further damage to the legitimacy of the Zardari government in regions which are already not entirely thrilled with his rule, while leaving many people indebted to groups that will be, or in some cases already are, part of the insurgency.