In remarks issued today on a visit to Afghanistan, Joint Chiefs of Staff Chairman Admiral Michael Mullen warned that the record levels of violence in Afghanistan are going to only continue to get worse over the summer.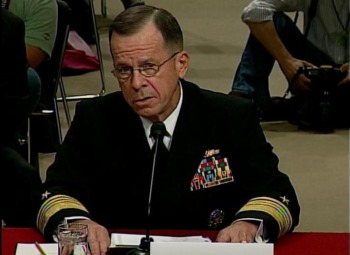 Mullen's comments echo a number of other comments from top officials, all predicting that the war will continue to worsen, and like those previous comments insisted the ill-defined "goal" of the war was still "within reach."
Yet these attempts to spin the ever more grim situation as on the verge of finally turning around will likely be taken with even more of a grain of salt than before, as it comes amidst a mass leak of classified documents showing that the war has been going far worse than officials have been willing to publicly let on.
A number of deaths over the weekend have brought the July toll of NATO soldiers to at least 77, making it the deadliest July since the war began. This means 13 consecutive months which were the worst toll for that month. So far the deadliest month in the war has been June of this year, which saw 103 NATO troops killed.