Israeli Minister Yossi Peled today vowed that the government would stop a Moldovan-flagged aid ship that left Greece for the Gaza Strip last week, insisting that allowing the ship to deliver its aid directly to the strip would have "very serious consequences" for Israel's security.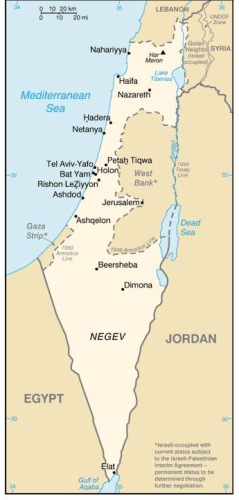 The ship was dispatched by a Libyan charity, the Kadhafi Foundation, and is expected to reach the Gaza Strip within the next two to three days. The ship contains some 2,000 tons of food and medications.
It does not appear that any of the goods on board the ship are included in the most recent "banned goods list" released by the Israeli government. Despite this, Israel has insisted the ship must be stopped, and that it must either agree to send its goods through the Israeli port of Ashdod or make a separate agreement with Egypt.
The ship is just the latest in what is expected to be a long string of new aid ships attempting to break the Gaza blockade since the Israeli attack on the Mavi Marmara, a Turkish aid ship. The attack left nine aid workers dead and brought growing attention to the humanitarian crisis.