At least 74 people were killed and a large but as yet unknown number of others were wounded today in a pair of coordinated bombing attacks against two sites in the Ugandan capital city of Kampala today.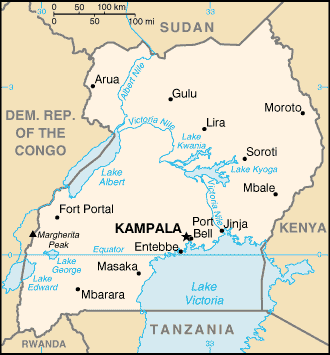 The attacks targeted crowds of people watching the final match of the World Cup tournament. The larger of the two attacks came against an outdoor gathering at a rugby club, where people gathered to watch the game on a large screen. The other attack came against an Ethiopian restaurant said to have been popular with tourists.
Ugandan police said they believed that Somali insurgent faction al-Shabaab was responsible, and this was confirmed the next morning when the group claimed responsibility. Al-Shabaab is the largest of several groups fighting against an African Union force attempting to install the self-proclaimed Somali government into power. Uganda is the largest contributors to the African Union force.
Indeed, it was only last week that al-Shabaab publicly promised to attack Uganda and Burundi for their role in the AU force. Uganda's military dismissed the threats as "made out of desperation."
The death tolls in the two attacks remain very preliminary, and while they have already risen considerably since they were first announced in the wake of the game, the numbers may continue to change throughout the evening and into tomorrow.