Pakistan's military today issued a stark warning to the Ahmadzai Wazirs, one of the largest tribes in South Waziristan, demanding at a jirga that the tribal leadership expel al foreigners from their tribal lands or face a military attack.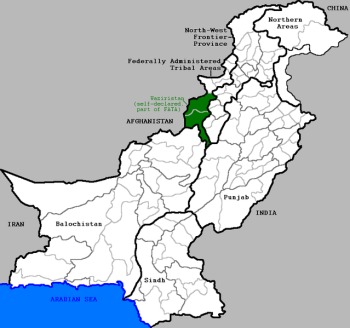 The military claimed that the Ahmadzai Wazirs are in violation of a 2007 peace treaty with the govenrment, in which they promised to cooperate with the military in its war against the Tehreek-e Taliban Pakistan (TTP).
The threat comes at a perplexing time, as Major General Nawaz Khan, the commander of troops in South Waziristan Agency, announced only two days ago that the entire agency was "free of terrorists" and that no insurgents, Taliban, or foreign militants remained.
Pakistan's government has a long-standing policy of demanding that tribes within the Federally Administered Tribal Areas (FATA) agree to participate in combat against its enemies, in effect turning the tribals into unpaid conscripts. Those tribes that refuse to participate are labeled "Taliban" by the military and are targeted in future offensives, sometimes by neighboring tribes that accepted the demands.