At least 50 people have been killed and another 175 wounded in a coordinated series of bomb attacks involving at least three suicide bombers in the Pakistani city of Lahore. Large numbers remain in critical condition, and the toll may continue to rise.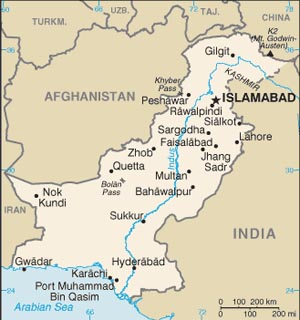 The attackers struck both the courtyard and lower level of a shrine dedicated to the Sufi saint Abul Hassan Ali Hajvery during the closing moments of Thursday evening prayers, and over 1,000 people were at the site at the time of the attacks.
At the moment it is unclear who is responsible for the attack, but the Sunni insurgent groups in the tribal areas of Pakistan generally take a dim view of the nation's Sufis and the attack is similar to several other attacks by such groups in the past.
The attack is the largest to hit Lahore in over a month. In late May members of the Tehreek-e Taliban Pakistan attacked a pair of Ahmadiyya mosques in the city, killing at least 98.