Less than one week after Gen. Stanley McChrystal was relieved of his command over the Afghan War, his replacement Gen. David Petraeus was confirmed by the Senate today, while delivering prepared testimony promising little in the way of changes and more violence ahead.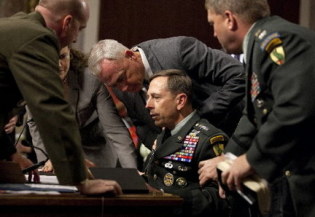 Perhaps the most troubling prediction from Gen. Petraeus was that the violence was going to continue to rise in the months ahead, and with it the casualties. The death toll for NATO troops in Afghanistan this month has by far dwarfed the previous record, and at least 99 troops have been reported slain.
Since his appointment by President Obama, Gen. Petraeus has been touted as likely to turn the war around, despite any changes in specific strategy. So far however, the general seems to be determined to downplay any hopes of a quick turnaround or even a long-term turnaround of the disastrous war.
In fact over eight and a half years after the war began, Gen. Petraeus' most optimistic comment was to say that it was "possible" there would be some progress made at some unspecified point in the future. Pentagon officials had previously been claiming that some undetectable momentum changes were already being made, as they attempt to convince Congress to pass another $33 billion in emergency funding for the conflict.