Speaking today in the wake of talks with British officials, German Defense Minister Karl-Theodor von und zu Guttenberg warned that NATO needed to dramatically "scale down" its goals for the Afghan War, and called into question the wisdom of launching the 2001 invasion in the first place.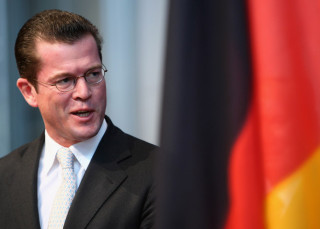 Guttenberg further said that NATO needed to lay out strict criteria for when it would be acceptable to embark on future wars so as to prevent being committed to open-ended wars with ill-defined political goals.
The comments were unusual for Guttenberg, who has regularly and publicly praised the war effort in Afghanistan. The war has been a tough sell for the German government, which has only recently abandoned its claims that the war isn't "technically" a war, and remains hugely unpopular with the German public.
Germany has over 5,000 soldiers in Afghanistan, and is the third largest commitment among NATO members, with the 10,000 British soldiers and the roughly 100,000 American soldiers the only larger ones. Though Germany's constitution explicitly forbids it to engage in such a war, there has been little legal challenge to the conflict, and the public opposition has largely been shrugged off in the face of a largely pro-war polity.