With humanitarian aid ships from Lebanon poised to make attempts to deliver their aid to the Gaza Strip by this weekend, and Iranian aid ships looking to run the Israeli blockade some time after that, Israel is approaching the attempts to deliver cement and medicine with the same seriousness as it approaches its regular wars.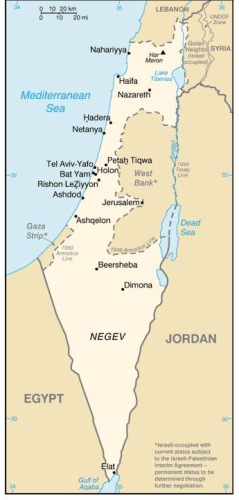 There is said to be a surge in activity "reminiscent of war preparations" on both the military and governmental front, with Prime Minister Netanyahu's  Security Cabinet meeting frequently to discuss how to handle the latest ships deliberating on exactly how they will attack these latest ships in the wake of international fallout from its deadly raid on the Mavi Marmara, an aid ship carrying electric wheelchairs and toys to the besieged strip.
While the Mavi Marmara was from Turkey, a close ally of Israel (or at least it was a close ally before the attack), Lebanon and Iran are both considered "enemy states" by Israel, and the Israeli government's rhetoric suggests an eagerness to react harshly to the ships.
Since the Mavi Marmara, Israel has pledged to increase the flow of goods through its official border crossings. Despite the fact that the new goods haven't really started flowing yet and the full details of the new "banned goods list" haven't been made public, Netanyahu insists the move eliminates any need for aid ships and "proves" that the ships are just troublemakers. Of course the Israeli government also insisted there was no need for aid ships before the policy change.
Israel's military is said to be preparing more "non-violent" (which presumably just means non-lethal) tactics for stopping the aid ships. While the US has stood behind Israel's last attack and there appears to be no UN probe of the killings on the horizon, it riled a number of nations and drew renewed attention to Israel's ongoing siege of Gaza. More killings would likely be a serious embarrassment for Israel, particularly if, as with the previous attack, the Israeli claims of "terrorists" on board don't stand up to even casual scrutiny.