Just one day after Kyrgyz police loyal to the interim government attacked an ethnic Uzbek village along the border with Uzbekistan, more state-sponsored violence is being reported against the besieged minority, this time in the major southern city of Osh.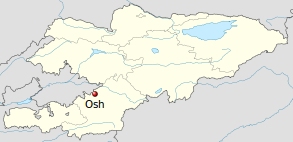 According to rights groups, Kyrgyz soldiers launched a raid against one of the last buildings not burned to the ground in an Uzbek neighborhood, a makeshift shelter and hospital for those Uzbeks who had not been killed or chased across the border in the past two weeks.
The troops were said to have forced all the Uzbek men to lie face down on the floor and that they beat several of the men and women. One of the doctors at the site reported that the troops stole cash and other valuables from the Uzbeks.
Organized violence against the Uzbeks led many to flee across the border into Uzbekistan, and left hundreds if not thousands slain. Though the interim government initially blamed ousted Prime Minister Kurmanbek Bakiyev for the violence, rights groups say that the military participated in the attacks and also armed some of the most violent gangs.