Connecticut financial adviser turned failed car bomber Faisal Shahzad today pled guilty to all 10 charges facing him with regards to the attack, including attempted use of a weapon of mass destruction and several charges related to an attempted act of terrorism.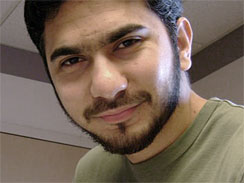 In early May Shahzad loaded a van with gasoline, propane and fertilizer, though unbeknownst to him he had obtained a non-explosive type of fertilizer. Though the attempt did some smoke damage to the inside of the vehicle, it did not explode and harmed no one. Police called the attack "amateurish" though they said if it had actually worked it could still have done some damage.
Shahzad is said to have received some training from the Tehreek-e Taliban Pakistan (TTP), and also received cash from an unnamed "co-conspirator" he believed worked for TTP.
Shahzad was unapologetic in his confession, saying "It's a war and I'm part of it." He added that so long as the US wars in Iraq and Afghanistan continued more attacks would be launched. He also shrugged off the judge's complaint that innocent people could have been killed in his failed attack, citing the number of innocent people killed in US drone strikes in Pakistan.
Though officials have insisted Shahzad has cooperated considerably since his capture, he will almost certainly face multiple life sentences for the crimes.