Despite repeated threats from the Israeli government to use force against them and statements from the Lebanese government regarding the legality, the "Julia," the first of two Gaza-bound aid ships, is set to depart Lebanon.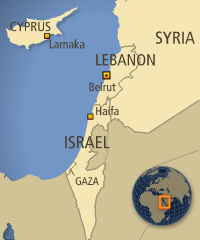 The announcement comes just a day after officials in the Lebanese government insisted the ship wouldn't be allowed to sail to the Gaza Strip, claiming it amounted to an illegal attempt to send a ship to an "Israeli-controlled port."
The Julia will apparently get around this law by not heading to Gaza directly. Instead the aid ship will head north to Cyprus first, will be searched again in a Cypriot port, and then will head to Gaza from there. It is expected the ship will arrive sometime this weekend.
A second Lebanese ship, the all-female "Mariam" is also expected to depart sometime soon on a similar attempt to deliver aid. It is unclear if the two ships will attempt to make the trip together or separately, and both have kept the specifics of their timing secret in the face of potential Israeli attack.
Israel, for its part, says it will use the same commandos that attacked the Mavi Marmara, a Turkish aid ship that attempted to voyage to Gaza three weeks ago. The commandos killed nine aid workers on board the ship.