The July 2011 date which the administration has occasionally presented as having something vaguely to do with a pullout from Afghanistan is a firm date. It is firm in the sense that if one has a calendar, they will see that there is in fact a month of July. Past that, officials are making very public their disagreements over what, if anything will happen in that month.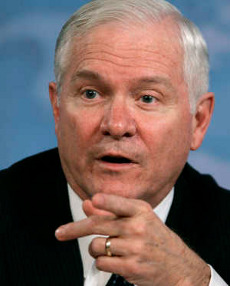 Vice President Biden recently promised a "whole lot of people moving out" of Afghanistan at that date, adding "bet on it." Chief of Staff Rahm Emanuel added today that the date was a firm one, and reiterated Biden's sentiment on the size.
Yet in an interview on Fox News Sunday, Secretary of Defense Robert Gates insisted that the pullout "absolutely has not been decided" upon. Gates added that he hadn't even heard of Biden's quote to the contrary and refused to address it.
Can the Obama Administration's centerpiece war be so haphazardly run that the Vice President and the Secretary of Defense can not only publicly say exactly opposite things but be completely unaware of what the other has said? It seems the official narrative changes by the day, but does it really also depend upon whom you ask?
Officials began openly dismissing the July 2011 date just hours after President Obama announced it to the nation, and it seems that the position is little changed. When trying to assure those worried about an exit strategy, the date is still on. When trying to reassure hawks worried that the war might ever end, the date is aspirational, at best.
Much as has become the case with the August 2010 date in Iraq, which no one really believes is even theoretically achievable anymore but which the administration still trots out from time to time, the "firm date" has become a political football, something to distract people from the disastrous direction the war has taken and the rising death toll, but not anything officials feel married to in any serious way.