The introduction of a new Senate bill, S.3480, dubbed the "Protecting Cyberspace as a National Asset Act of 2010," is sparking concerns about a massive power grab over the Internet under the guise of "national security."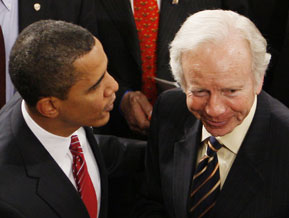 The bill, proposed by Sen. Joe Lieberman (I – CT) claims the entire Internet, the whole global computer network and everything on it, as a "national asset" of the United States, and seeks to give President Obama the power to seize control over broad swaths of it with no oversight during a "National Cyber Emergency," which would itself be something the president would be able to declare at any time.
But easily the most controversial aspect of the nearly 200 page bill is what is being called a "kill switch," granting the president the power to shut down the entire Internet across the planet for national security reasons. Sen. Collins (R – ME), a supporter of the bill, claimed it was necessary to prevent a "cyber 9/11."
The bill amounts to a remarkable claim of presidential power, claiming a large portion of the global economy as a specific asset of the United States and further claiming the right to nationalize or destroy it in whole or part on a whim. The news may be disquieting enough for Americans faced with this sort of power grab from their own government, but for foreigners the idea that another nation can commandeer the Internet, cut them off from it, or render it unusable is totally shocking, and not surprisingly, a source of no small consternation.
When reading through the bill, one can't notice how frankly it claims such enormous powers, or imagine how shocked the entire planet would be if Sen. Lieberman proposed the same measures without adding the prefix "cyber" to every few words. Couching it as a technical matter, with the usual technical ignorance of a Congressman thrown in for good measure, is a way to hide exactly how sweeping the new powers would truly be.
In fact Sen. Lieberman insisted that the very fact that the internet is now "a necessity of modern life" was the justification behind his bill. We can't, it seems, have billions of people worldwide living a modern life without the president's imprimatur.