52 year old American Gary Brooks Faulkner was arrested today in Pakistan near the border with Afghanistan. Armed with a sword, Faulkner says he intended to behead Osama bin Laden and that he had been hunting him since 9/11.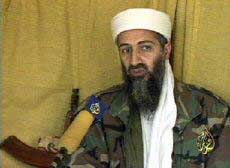 Faulkner, who was visiting Pakistan on a tourist visa, is said to be in failing health and "wanted to do one last thing for his country before he died." Faulkner's sister says the man had visited Pakistan at least three times previously on similar expeditions and that he "comes from a family of hunters."
Faulkner was also reported to be "extremely religious" and was said to be carrying Christian literature on him at the time. Little else is known about him, except that he reportedly did not plan to collect the $50 million bounty on bin Laden's head if he had managed to sever it from his shoulders.
Arrests of would-be bin Laden hunters have been comparatively rare, with few willing to embark on such a dangerous venture. Previously another US citizen, Jonathan "Jack" Idema was arrested for running a private prison and torture centure in Kabul. Idema was said to be trying to get leads on bin Laden at the time.