Though at this point it seems hard to imagine that the deal could still happen, both Iran and Turkey insist that the third party enrichment deal they negotiated remains "on the table."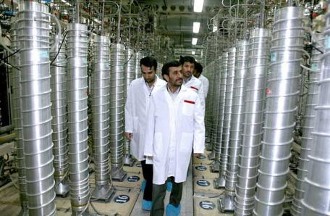 "The Tehran declaration is still alive and can play a role," insisted Iranian President Mahmoud Ahmadinejad. The May deal, virtually identical to one negotiated with the P5+1 in October of 2009, would have Iran sending 1,200 kg of low enriched uranium abroad, in return for fuel for its medical research reactor, which produces isotopes for nuclear medicine.
Though the US and others had demanded the October deal for months, they angrily rejected the May deal when it came along, and diplomats say they have officially ruled out participating in such an exchange.
Last ditch negotiations by Turkey and Brazil made the May deal possible, and officials from those countries have expressed extreme displeasue with the dismissive attitude of the US and others regarding the deal. The US, for its part, has condemned Turkey and Brazil for trying to negotiate such a deal, claiming it was "unfortunate."